Even though Vietnam was the first country we visited in Asia, after moving to Hong Kong we've decided to go back and explore more. That's how our roads led us to Da Nang on a December day. But how could someone go to Central Vietnam without spending some time in the loveliest, most colorful, and vibrant little town: Hoi An. And because you must stay overnight, here's my guide for where to stay in Hoi An and how to choose the best area to stay in Hoi An. 
This post contains affiliate links. This means if you click on the link and purchase the item, I will receive an affiliate commission at no additional cost to you. As an Amazon Associate, I earn from qualifying purchases. Read more about it on our disclosure page here.
Choose the best area to stay in Hoi An
If you're planning for a longer Vietnam itinerary and wandering if it's worth staying for a few days in Hoi An, I would go ahead and make the decision for you: YES! 
Despite the fact that this small town is one of the most packed with foreigners I've seen in Vietnam, only a stroll on its streets will make you understand why. 
What you'll have to decide when looking for where to stay in Hoi An is whether you want to stay in the Old Town area or by the beach. 
I'll break it down for you to help you plan better, and I'll go ahead and share some great accommodation options for each location. We're all different and it's normal to look for something distinct, and I'm here to guide you towards your decision. 
Staying in the Old Town
While staying in the heart of your destination will always have its advantages, you'll notice some downsides to it all as well. Since the town is pretty small, no matter what you'll choose you won't be secluded. However, you'll want to consider both advantages and disadvantages and decide where is the best area to stay in Hoi An for you.
Advantages: 
you are in the middle of the action

step outside of your building to the colorful streets filled with lanterns – you can even come out early in the morning and take some pictures without the crowds

close to great food places, you'll want to try
Disadvantages:
it gets really crowded and hectic – especially during the lantern festival, but not only

you'll have to take the taxi to get to the beach (roughly 10 min drive)

prices might be a bit higher and you might need to book further in advance to make sure you find a great place
If you are only visiting for a night and you want to make the best out of your stay, I would strongly recommend you choose to stay in the Old Town. 
Here are some great accommodation options to consider for Hoi An Old Town. 
Luxury stay
Anantara Hoi An Resort
A superb 5* resort right in the heart of the bustling colorful village, set along the river, and 5km away from the beach. If you want to pamper yourself, relax with their daily yoga classes, or a Vietnamese massage, this is the place you'll want to book.
Their rooms have a private porch where you can sit back and enjoy the view over the river or the lush tropical garden. 
Perfect for: couples 
Mid-Range stay
Little Hoi An. A Boutique Hotel & Spa
Its location at the edge of the Old Town makes it perfect for someone who wants to stay in the Old Town but skip the noise, while still being close to restaurants and entertainment. 
The hotel has a mixed vibe where you'll find the old traditional Vietnamese style with a modern twist, a cozy atmosphere, and a great spa and outdoor pool. 
Budget stay
Hoian Central Hotel
This hotel caught my eye because of its traditional and colorful vibe, outdoor swimming pool, and the perfect location on the edge of the city center.
Many guests staying here say that their expectations have been exceeded and rated it with a 10. They particularly loved the customer service provided by the hotel's staff, and say that they would go back anytime. 
Staying by the beach
To be honest, before I visited I wasn't really aware that Hoi An is so close to the beach. However, An Bang Beach is 10-20 minutes away by bike from Hoi An's Old Town (less than 5 km away). 
You shouldn't worry about getting from one point to the other if you choose to stay by the beach – most hotels have bikes for rent, shutter transfers, and even finding a taxi or a Grab is super easy and cheap. 
Advantages: 
the beach will offer a more vacation feel 

it is much quieter and relaxing than staying in the Old Town

cooler temperatures during high season 

many luxury resorts with spectacular services are located here
Disadvantages:
you'll have to commute to get to the Old Town
When you choose to spend more time in Hoi An and you're not only passing by, you should consider booking a stay by the beach, in An Bang Beach. Especially because this is the perfect way of mixing a beach vacation with a cultural one – split the days between the sandy shores and the colorful village towns. 
An Bang Beach is the best beach because it is the closest to Hoi An old town, Da Nang airport, and offers lots of food options and great hotels. Other options: South An Bang Beach, Cua Dai Beach, Hidden Beach. 
Luxury Stay 
Aira Boutique Hoi An Hotel & Villa
Hidden in the lush tropical gardens, minutes away from An Bang Beach, boasting 2 outdoor pools and a spa, this is the perfect destination for a wellness retreat. 
On the other hand, this is a super affordable luxurious place, particularly appreciated by guests for its restaurant, tranquility, and proximity to Hoi An center (approx. 15 minutes commute). 
Mid-Range Stay
LIDO Villa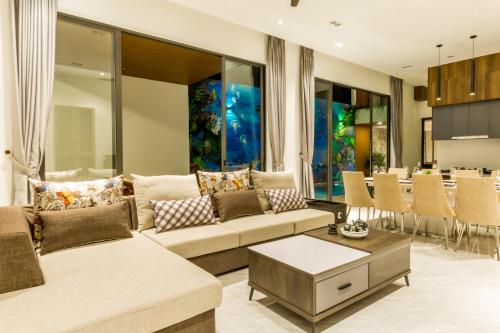 A villa accommodating up to 10 people with the beach just steps away from its private garden. Spend the time between the sandy beach and the private pool, rent a motorbike and explore the area, or just organize a tour with the help of the people at the front desk.
They offer sunbeds on the beach and a bar with very affordable cocktail options, perfect for long sunny days. 
Budget stay
Blue Whale Homestay

A basic option particularly appreciated for its quiet location by the sea, the openness, and helpfulness of the manager, and the coziness of the place. 
Excellent value for someone looking for a vacation on a budget. 
Authentic Vietnamese location 
I've saved the most authentic experience for last because that's only for the adventurous ones, looking for the real deal. 
The first time we visited Vietnam some years ago, we chose to stay in the backpacker's area of Saigon because we wanted to see the real vibe of the city. The same goes for rural areas. And it is something we experienced in Phu Quoc island, where we stayed with the locals, choosing to skip the resort type accommodation. 
For that reason, I would encourage you to look at these options, at least for a night or two. Because who knows when you'll get the chance to wake up and drink your delicious Vietnamese coffee with a view over the rice paddies? 
Choose to stay anywhere in Cam Thanh, An-My, or Cam Kim Island for such an experience and you won't regret it. 
Luxury Stay
Zest Villas & Spa Hoi An
Such an exceptional location set right in the middle of the rice paddies, offering 4* accommodation services. A place I would book in a blink of an eye for my next Vietnam experience, not only because of its swimming pool, free bikes, and SPA facilities but also because of the breathtaking views from their terrace and rooms. 
Check out that bathtub in the garden!
Mid-Range stay
Pomelo Garden Boutique Villa
A nice homestay with an outdoor swimming pool, the guests appreciated the professional services delivered by the host and delicious food. 
Its location in the midst of tropical greenery makes it the perfect escape destination. 
Budget Stay
A Bống Villa Hội An
I think it's hard to find a place in Vietnam where the people are super friendly and would go beyond their way to be helpful. The same goes for this homestay in Cam Thanh, where guests loved their stay and would go back at any time. 
Other information you might need for visiting Hoi An
WHEN IS THE BEST TIME TO GO
We visited in December and the weather was hot but just right. However, the dry season is between February to July and I would encourage you to go towards the beginning or end of the season. 
Of course, prices outside the high season are lower, and temperatures are bearable. Another thing to have in mind is that during the Vietnamese public holidays because that's when this pretty small village gets even more crowded than usual (especially during TET). 
GETTING AROUND
As I've said, getting around in Vietnam is super easy and cheap. Most hotels offer shuttle transfers, and bikes for rent, and help you with organizing tours and visits in the surrounding area. 
We mostly traveled by taxi or Grab, which is easy to use on the phone, without cash, and at really acceptable prices. Check out available options and prices here!
USEFUL TRAVEL GUIDES
Other Vietnam travel resources: